The EWT series meets the requirements of Division 1 "A location where an explosive mixture of gas, vapor, dust, fibers or flyings, and air may exist under normal operating conditions". The EWT cast aluminum enclosure is acceptable for locations requiring Weatherproof, Water-tight and Dust-tight applications. Class II devices require Dust tight enclosures. Our enclosure meets NEMA 4 and CSA IV requirements.

Explosion-proof, Normally Open Contacts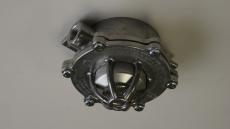 With its non-metallic diaphragm, the detector can operate normally at low temperatures, making it suitable for non-heated, exposed or chilled spaces including garages, boat decks, engine rooms, tunnels, etc.